FULLY OPEN FOR Dine-in
Check out our daily  featured oyster – $1.50 each, open to close, dine-in only, house rules may apply. NOTE: Due to supply chain issues in COVID times available quantities may be limited.
August 12 to 21, 2022 – JOIN US FOR ALBERTA ON THE PLATE DINE AROUND FESTIVAL!
Two course menus Lunch $25 and Dinner $35 in addition to our regular menus

JUNE 2018 – DINE WITH YOUR FURRY FRIEND!
Check out our dog-friendly patio – two tables on the west side, available whenever weather permits. Please note – dogs are not generally allowed on the main patio, but larger groups with a dog may be accommodated with prior arrangement.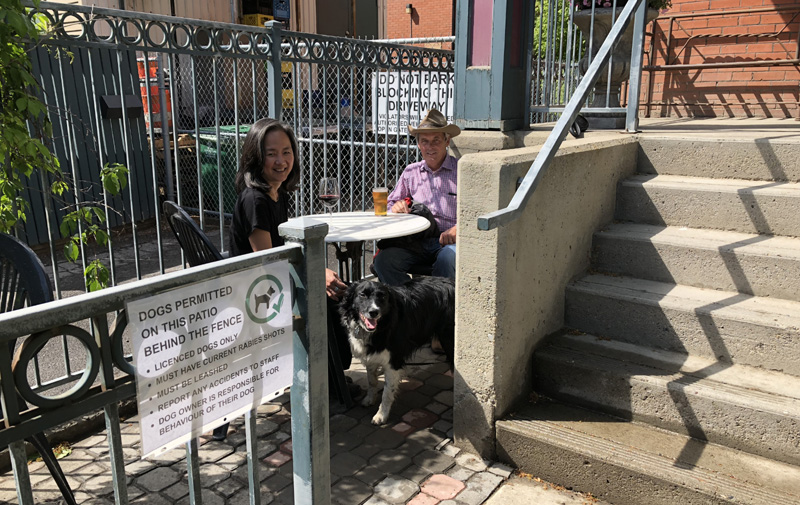 The Embarcadero
The widest selection of oysters in the city....this casual restaurant feels like a pub but tastes like fine dining. Named after the waterfront district in San Francisco, Embarcadero means "wharf" or "landing place" in Spanish. With the widest selection of oysters in the city, we feature at least six varieties of northern Atlantic and Pacific fresh oysters on the half shell.
Contact Information
Address: 208 17 Ave SE, Calgary AB T2G 1H4
Phone Number: 403-263-0848
Email: manager@embarcadero.ca
Restaurant Hours
Mon-Thurs: 11am - 11pm
Friday: 11am - 12am
Saturday: 4pm - 12am
Sunday: 4pm - 10pm
Seating to one hour prior to close, hours may vary on holidays - please check Google listing.